Romi Machines UK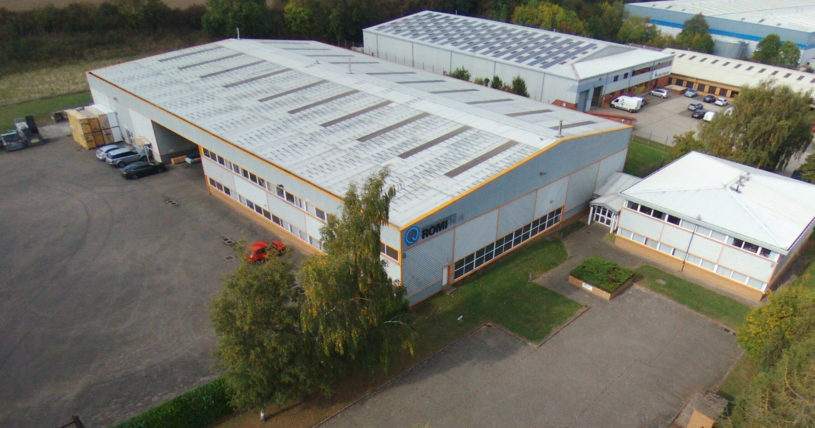 In July of 2008 Romi acquired Sandretto's assets including the sales and service subsidiaries of UK, France, Spain and Holland. Over the past six years, Romi, with the help of the existing Sandretto staff, worked hard to keep an efficient and fast service to all customers, the main reason of our existence.
Established in 1975 as Sandretto UK we have sold and serviced over 3000 injection moulding machines in UK and abroad. After Romi's acquisition of the Sandretto brand, we experienced substantial growth finally becoming Romi Machines UK in 2014.
As part of our expansion strategy, we now sell and service our CNC Machine Tools and Plastic Injection Moulding Machines as well as offer full assistance on service and spare parts to all Sandretto Machines, regardless of age.
Because we care. First and foremost for Romi is always the question: how can our machines achieve a better result for you? Our aim is to integrate Romi machines into your production process as efficiently as possible.
Your romi machine requirements are handled by our highly qualified engineering team, which offers you solutions for your application. In doing so, we have your sights set at ensuring the highest possible productivity for the desired application.
From the very beginning, the Romi team accompanies you and supports you with all questions relating to technology, technology and financing. Together with you, we develop tailor-made concepts and support you with technical support and training.
Our sales team is always available for you and our service team is ready for use around the clock – also by remote maintenance.
Throughout the entire project phase and beyond, you will work with our qualified engineers and technicians. With a wealth of experience and a great passion for technology, Romi is a reliable partner who acts fairly, bindingly and responsibly towards customers, suppliers and employees.
At Romi, we are all highly motivated and look forward to new challenges. We look forward to a successful company history. What began in 1930 as a car repair shop has developed over the decades into a high-tech, globally represented machine manufacturer. 160,000 machines produced speak for themselves!
The ROMI character: These characteristics define ROMI
Partnership
We are constantly in contact with our customers, suppliers and employees. We attach great importance to a partnership and fair approach on an equal footing.
Customer orientation
Our machines are built for you to achieve your goals. That is why we always have the big picture in mind for you.
Security
Romi is distinguished by prudent entrepreneurial behaviour. With vision, highly qualified employees and high-quality technology, we are ideally equipped for the future.

Service
Service starts with the first conversation. The guiding principle of our actions is the daily success of our customers. We are committed to this with full commitment.
Responsibility
We take responsibility for our actions. Our aim is to provide you with impeccable quality at an affordable price.

Tradition and experience
Romi has a wealth of experience. Romi has been known for its high-quality products since 1930. We are constantly developing to move forward with you.
Trust
Trust is the basis of a good relationship. Respect and understanding for each other are essential for this trust to be built. Only with trust does the future arise.
The ROMI Machine – These are the characteristics that make up our machines
Quality
Having a foundry business as part of the group, Romi are able to collaborate, to produce extra strong machine frame designs, which not only add stiffness to maintain machine accuracy, but also strength where needed for extreme durability.
High in-house production depth
Romi machines are almost exclusively manufactured and assembled in our facility. This ensures consistent quality standards are maintained throughout the production stages.
Affordable peak performance
Investing in a Romi machine pays off. The price-performance ratio is excellent, with durability that ensures that even when the going gets tough, you won't get let down.
Proven technology
The aim of Romi is to provide a high level of usable technology at a reasonable price. That means integrating market proven technology from carefully selected suppliers into our our robust designs.
First-class partners
Our Romi machines are packed full of high-quality components sourced from world market leaders. We recognise that reliability, performance and continuity of spares supply is equally important to our customers as it is to us
Easy to use
Machine operators praise the user-friendliness of Romi, which is equipped with industry standardized control from well-known manufacturers. Ensuring Romi machines can be put into operation quickly without lengthy training.
Who is ROMI?
Romi delivers affordable, high-performance technology: We are a manufacturer of robust rotary, milling and plastic injection moulding machines designed and built to provide an excellent price-performance ratio option for our customers. How do we do it? Romi source state of the art components, vital to provide the accuracy and performance of our machines, from world market leaders. We design and manufacture our machines in the most efficient and economic way, in-house at our sites in Brazil. This strategy allows us to provide a high quality machine, with the latest technology at a more affordable cost point.
Romi machines have been tried and tested and have proven themselves for applications in a wide range of industries.
In Brazil, we are a clear market and technology leader, since expanding onto a global stage, our customers worldwide are now also beginning to appreciate the high-performance Romi machines and technical support. This is something we want to expand on, with greater global presence.
Since the take over of Sandretto UK in 2012, Romi UK has been servicing and supplying machines into the UK and Irish markets from our Rugby base. We welcome you to share your machinery projects with us.