ROMI GL Series – New Generation
Turning Centres
ROMI GL Series – New Generation
Presentation

The GL Series is designed to operate in environments of medium to high production, the New Generation offers high power and torque. Its robust structure is ideal for machining at full power to increase efficiency, whilst offering high rigidity during severe machining operations. The GL Series also offers thermal and geometric stability, accuracy, high performance, and productivity.
The quality of the manufacturing processes ensures reliability and operational efficiency of ROMI machines. Designed and analysed using 3D CAD software, the entire machine structure of the ROMI GL Series is dimensioned by Finite Element Analysis (FEA), resulting in improved structures for each machine model.
The GL Series offers a cooling system which brings great heat and thermal stability to the machine assembly. A high precision spindle is designed to withstand high machining forces and high speeds with continuous variation.
ROMI GL Series – New Generation
Main Technical Features
| | | ROMI GL 250 | ROMI GL 300 | ROMI GL 350 | ROMI GL 450 |
| --- | --- | --- | --- | --- | --- |
| Maximum cutting diameter | mm | T = 282 M, Y and S = 250 | T = 330 M, Y and S = 300 | T = 410 M and Y = 350 | T = 490 M and Y = 450 |
| Speed range (Headstock) | rpm | 6,000 / 4,500 | 4,500 / 3,500 | 3,000 / 2,500 | 3,000 / 2,500 |
| Spindle nose | ASA | A2-5'' / A2-6'' | A2-6'' / A2-8'' | A2-8'' / A2-11'' | A2-8'' / A2-11'' |
| Rapid traverse - X axis | m/min | 30 | 30 | 30 | 30 |
| Rapid traverse - Z axis | m/min | 30 | 30 | 30 | 30 |
| Number of tools / stations | un | 12 | 12 | 12 | 12 |
| AC Main motor | cv / kW | 19.4 / 14.3 | 25.2 / 18.5 | 34 / 25 | 40.8 / 30 |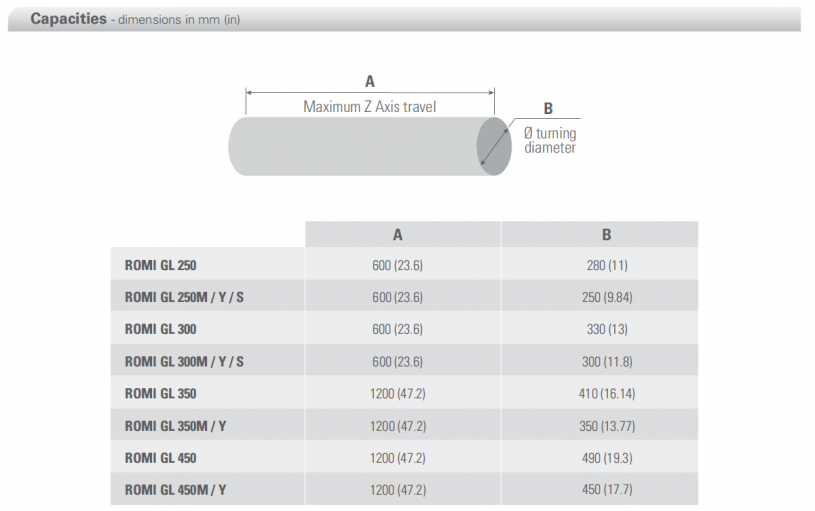 ROMI GL Series – New Generation
Catalogues
ROMI GL Series – New Generation
Videos
Consult an expert
Need more information about this product? Send a request or call us on +003455453455